A mechanical keyboard is a keyboard built with high quality, typically spring activated, key switches. These key switches vary based on the keyboard's application or user preference.
While some of the first widely sold keyboards such as IBM's Model M in the 1980's utilized mechanical switches, the 1990's brought on a wave of inexpensive rubber dome keyboards that flooded the keyboard market. Rubber dome keyboards represent over 90% of keyboards in use today and provide an inexpensive but dissatisfying feel and typing experience.
Mechanical keyboards raise the bar in every way. A mechanical keyboard's switches, framing, functionality, type print methods, key construction, PCB board, LED lighting (sharpness, brightness, adjustability), and a slew of other features are far superior compared to traditional rubber dome keyboards. Most of these improvements boil down to one thing - feel. Mechanical keyboards simply feel better than rubber dome keyboards.
Over the last few years, mechanical keyboards have become extremely popular. And as a developer I prefer the force feed back and the reassuring click and tactile feed back that they provide. However there is a huge variety of keyboards available with different layouts, key types and price points. How do you pick one that is right for you?
After trying many of mechanical keyboards, I can honestly recommend the Logitech G Pro Gaming keyboard. Don't let the gaming part fool you. This is a serious keyboard that gives one of the best performances at a very reasonable price.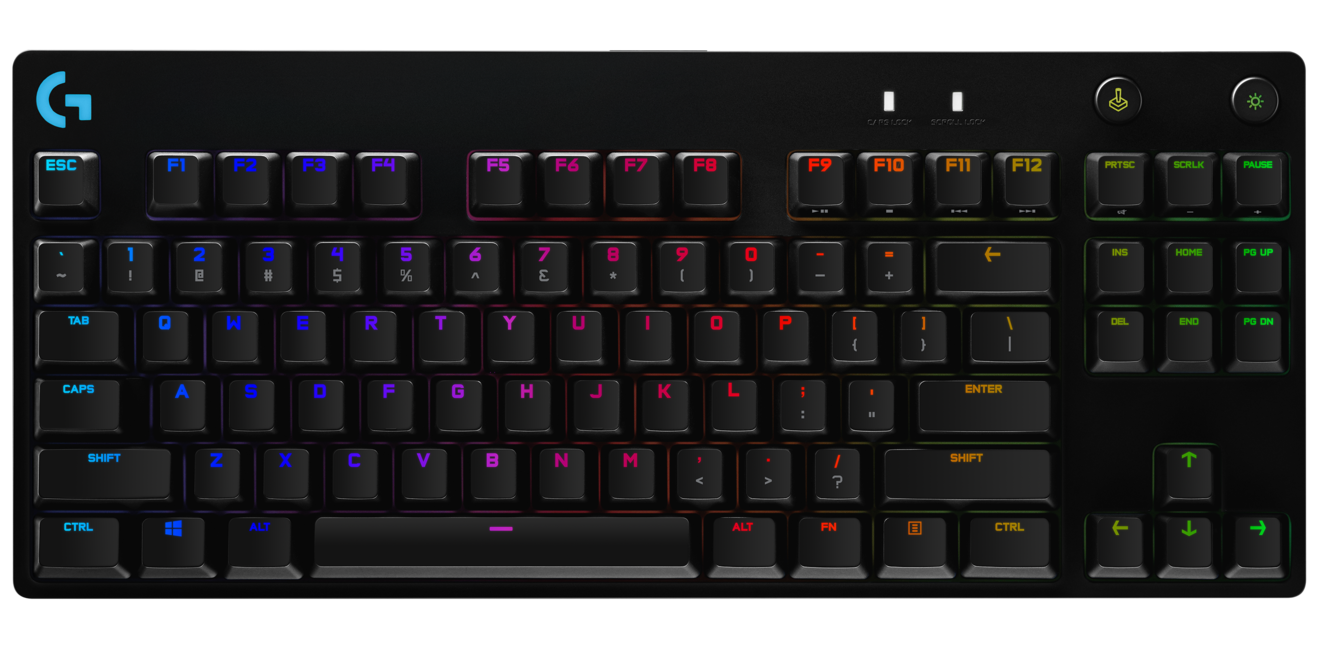 What is in the box
The Logitech G Pro Gaming keyboard comes with a just the essentials - the keyboard itself, a braided micro-USB cable and a small leaflet that tells you how to plug in the keyboard. Thats about it. You'll either want to hold on to the box or invest in a separate case as one is not included.
The G Pro's braided micro-USB cable deserves mention. With hooks on either side, it provides for a secure fit. This is good for securing the cable so you don't accidentally remove it while in use. And the braided cable looks to be strong - no fraying or cutting problems here.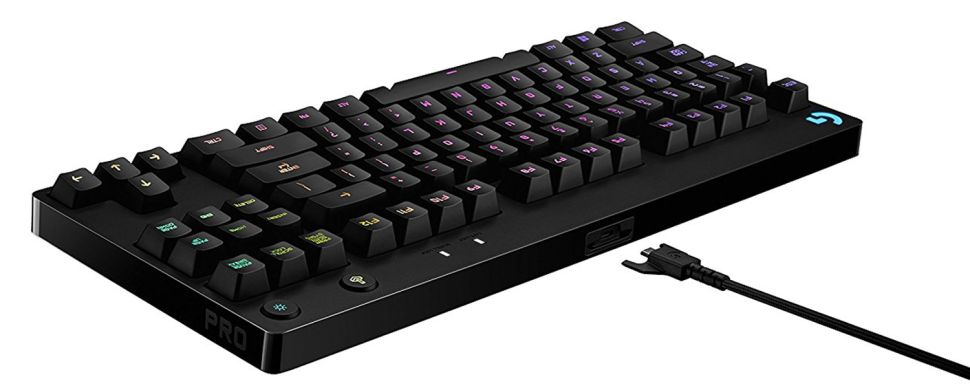 Design
The G Pro looks like what would happen if we were to take a standard full mechanical keyboard and simply chop off the numpad with some kind of high-tech paper cutter. It has a full selection of keys (minus the numpad), in addition to a key that controls the lighting and one that activates a Game Mode. The Game Mode is useless for programmers. It prevents you from clicking keys such as Alt-Tab or the Windows button, so that you won't accidentally shut down your game midway. I wish this key was programmable to something else - but alas, you can't.
That's most of what there is to say about the keyboard's looks. It's small (14.2 x 6.0 x 1.4 inches), attractive and streamlined. Instead of employing discrete media controls, you can use the Fn key and the top row of Function buttons. Discrete controls would have been nice, but the advantage here is that they don't clutter the keyboard.
Keys
The keyboard makes use of the company's ubiquitous Romer-G mechanical switches. If you've never tried them before, they feel like Cherry MX Browns: tactile and fairly quiet. While Cherries are the standard to beat, Romer-Gs are supposed to be a hair faster, more responsive and more durable, so you could do much worse. Taken on their own merits, they're pretty comfortable.
The Romer-G switches are great for typing. With the G Pro, I typed 115 words per minute with nine errors. Thats pretty good - at least for me.
Features
The Logitech G Pro runs on the Logitech Gaming Software, which is excellent. You can program the F1 through F12 keys, as well as adjust the backlighting and keep track of your stats (where your fingers spend the most time, how often you press buttons, and so forth).
There's one onboard profile for the G Pro keyboard. This profile stores one lighting profile, which means that you can hook up the keyboard to any computer and have it retain any key colors that you care to program.
I'm not sure if this constitutes a bona fide "Big Deal," but it's a helpful feature, particularly because the keyboard's default color wave can be somewhat distracting, and turning off lighting entirely makes the peripheral feel a little plain. My only complaint is that it took me a little while to figure out how to save the onboard profile. Hardly a deal breaker.
Performance
I put the G Pro through its paces, with both e-sports and narrative-driven titles, and it worked well in both cases. I had no trouble gliding around the battlefield as Mercy in Overwatch or commanding Jaina Proudmoore to encase enemies in ice in Heroes of the Storm. Likewise, the keyboard was competent and responsive when I was adventuring through the realm of Eorzea in Final Fantasy XIV or taking down bandit camps in The Witcher 3: Wild Hunt.

The keyboard's compact size is a boon. It was easy to play Overwatch and Heroes of the Storm with the keyboard straight in front of me, or off to the side at an angle; such maneuverability is sometimes necessary, depending on how much space you have at a tournament. Otherwise, it's just as responsive as Logitech Orion keyboards, which have already proved their worth as e-sports peripherals.
Conclusion
The Logitech G Pro is a great keyboard. If you want a small mechanical keyboard that's suitable for long stints of daily typing or coding and you don't want to sacrifice comfort or performance, the Logitech G Pro is the one you should get. Just ignore the gaming keyboard part. And at $79 dollars - you aren't going to get a better deal. The only downsides - and I am nitpicking here - is the lack of a case and being able to program the gaming button. Get yours here.